Here's why you should download a VPN
For seriously secure Wi-Fi
Hide and protect your browsing, banking, online shopping, emails, chats, searches... At home and on public Wi-Fi.
For better online privacy
Encrypt your connection so nobody sees and tracks what you're doing online. Not your neighbors, not hackers, not your ISP — not even the government.
For unrestricted access worldwide
Simply choose any country from the list of anonymous international servers, and access content as if you were there — and anonymously to boot.
Looking for the perfect VPN software for Windows, Mac and Mobile?
You found it
An easy-to-use VPN service that looks good
It sets up in minutes: download, install, and connect with one click. Intuitively designed with clarity in mind.
Encryption level: military
256 bit AES encryption grade means your online activity is uncrackable, and you can browse with peace of mind.
Kill Switch: no privacy exposure
Automatically halt your traffic if your VPN connection drops, so none of your browsing gets exposed.
Your connections, your rules
Choose which networks you'd like to connect to with your VPN, and which ones you don't — or choose all of them. Up to you
Up to 10 devices at the same time
This VPN goes well beyond your Mac: use it on your Windows PC, Android and iOS devices too.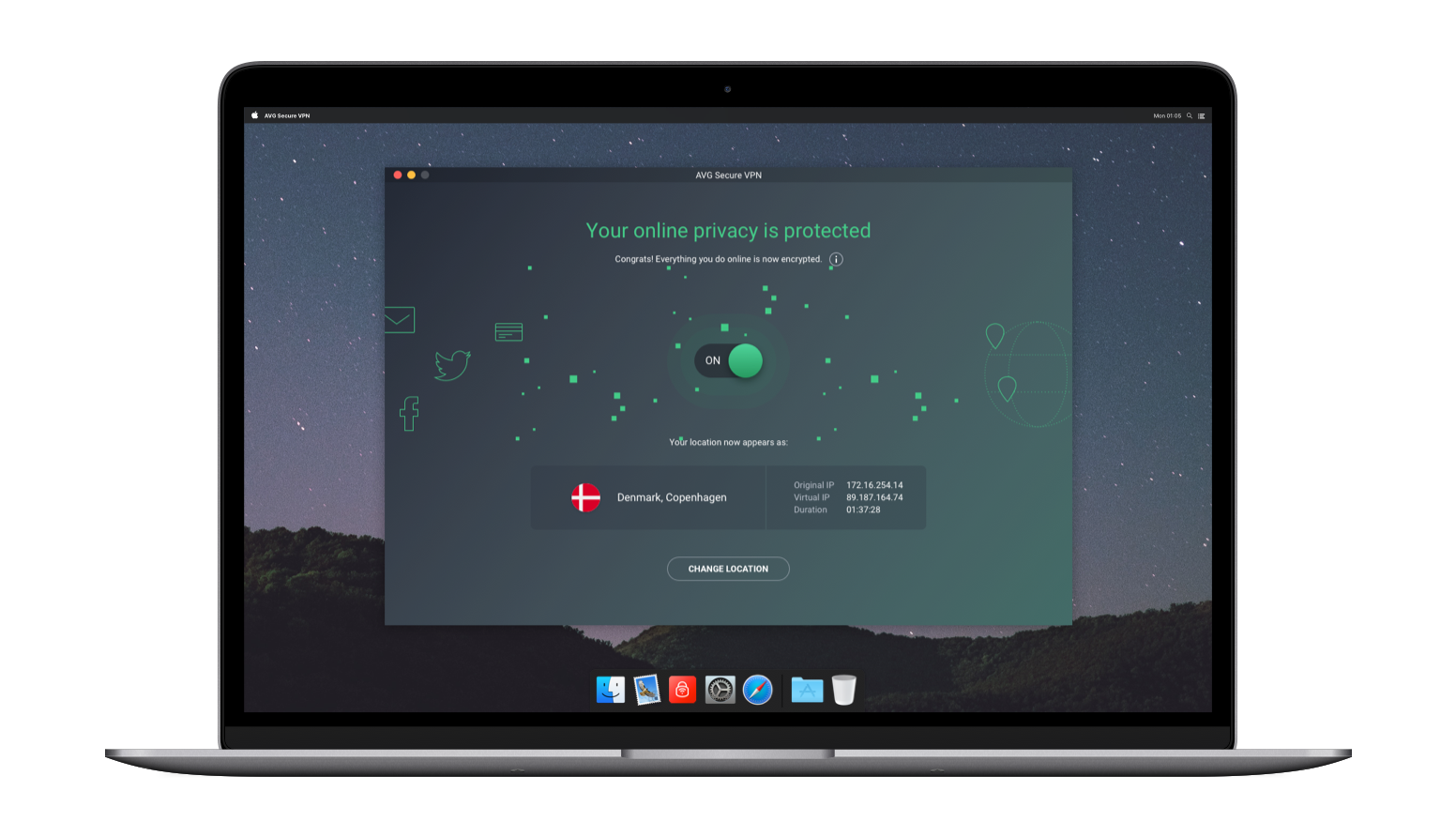 AVG Secure VPN Is Easy As One, Two, Three
Connect your Mac to Wi-Fi
Whatever Wi-Fi you connect to - at home or in public - our VPN client can secure it.
Switch on your Secure VPN
Launch the Secure VPN app and click on the ON button. Change your location as often as you want.
Enjoy secure, anonymous browsing
That's all. As long as you keep your Secure VPN on, your browsing is secure and anonymous, and your location is hidden.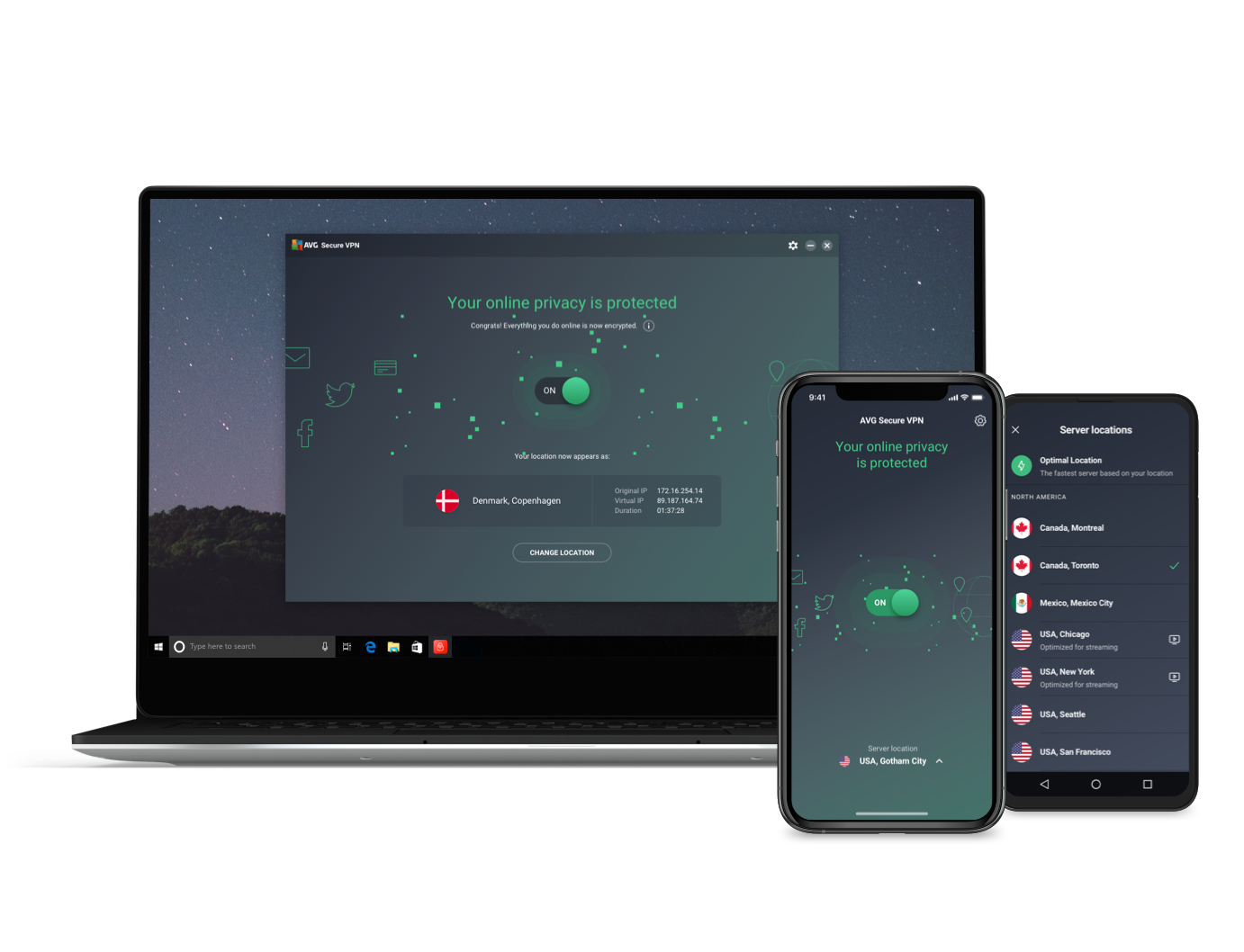 Get True Online Privacy For Your PC, Mac, And Mobile

30-day money-back guarantee
How to install AVG Secure VPN for Windows 11, 10, 8, and 7
Minimum System Requirements for PC

WinApple macOS 11.x (Big Sur), Apple macOS 10.15.x (Catalina), Apple macOS 10.14.x (Mojave), Apple macOS 10.13.x (High Sierra), Apple macOS 10.12.x (Sierra)
Windows 11 and Windows 10 except Mobile and IoT Core Edition (32 or 64-bit); Windows 8/8.1 except RT and Starter Edition (32 or 64-bit); Windows 7 SP1 or higher, any Edition (32 or 64-bit) Windows fully compatible PC with Intel Pentium 4 / AMD Athlon 64 processor or above (must support SSE2 instructions) 256 MB RAM or above 300 MB free space on the hard disk Internet connection to download, activate, and use the VPN service Optimal standard screen resolution no less than 1024 x 768 pixels is recommended
How to install AVG Secure VPN for Mac
Minimum System Requirements for Mac
WinApple macOS 11.x (Big Sur), Apple macOS 10.15.x (Catalina), Apple macOS 10.14.x (Mojave), Apple macOS 10.13.x (High Sierra), Apple macOS 10.12.x (Sierra)
Advanced features, like Smart VPN and improved connection method are available for Apple macOS 10.15 and newer 90 MB free space on the hard disk Intel based Mac with 64-bit processor Internet connection to download, activate, and use the VPN service Optimally standard screen resolution not less than 1280x800 pixels
How to install AVG Secure VPN for Android
Minimum System Requirements for Android

WinApple macOS 11.x (Big Sur), Apple macOS 10.15.x (Catalina), Apple macOS 10.14.x (Mojave), Apple macOS 10.13.x (High Sierra), Apple macOS 10.12.x (Sierra)
Google Android 6.0 (Marshmallow, API 23) or later Internet connection to download, activate, and use the VPN service